Modern Retro. Definitely sounds like an oxymoron, but really it's not. No one wants to completely resurrect the fashion failures of the past. Think crimped hair, linebacker shoulder pads, bras that come to a sharp point. Uhn-uh! What we want to see this season are graphic black and white prints, flat scrunched boots and A-line dresses. These styles are updated, tweaked to be revived into the modern look that fits todays fashions. Notice how the scrunch boots in the photo do not resemble the pirate-esque scrunch boot of the past? A perfect example of Modern Retro. T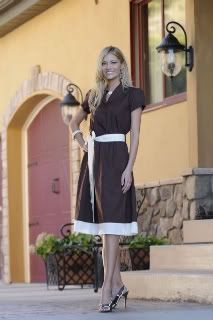 hese boots look great with leggings, and a long tunic or shorter dress.
For a dressier look you could try Diviine Modestee's MaKenna dress. With its color-block styling and its A-line silhouette this dress has the perfect taste of retro. Pair it with a great pair of heels and a chunky beaded necklace and you are perfectly read for work or play! One little fashion hint, however: please don't wear the scrunch boots with the dress,
although if you must, choose the cream boots. :)
Next up...Bohemian style.