Not to stereotype, but like most gals, I love a good shoe. I love the summer for it's bright and breezy wedges and the fall/winter for boots. LOVE boots! During the summer, I purchased this Polka Dot Skirt and Red Bowtie Tee (below) from Diviine ModesTee and wanted some really awesome shoes to go with it.
I had my little heart set on red wedges. In the past I have had really good luck with purchasing shoes on eBay (NO! Not used!) so I decided to give that a try again. I bid and won these shoes:
I swearthey weren't 5 inches high on eBay! While they went really well with the outfit...bows and all...I was reminded a little too much of Dorothy on stilts. In fact, I wore these one day to the office and was soundly mocked and ridiculed. Probably because I could hardly walk.
So obviously these were not going to work. "I'll try eBay again", I thought, where I saw these absolutely adorable wedges.
Unique-looking and not quite so amazon-inducing. I Could not WAIT to get these shoes! When they finally came I was in heaven! So adorable! The next day I decide to wear my Polka Dot Skirt to work so that I can wear these shoes. I haul out these shoes and attempt to put them on. There I have a teensy problem.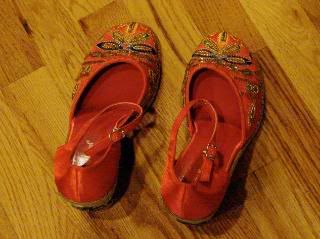 Can you spot what doesn't belong? Oh, that's right! *slaps forehead* the buckles go on the OUTSIDE of the shoes! *sigh* (Insert a really good two-left-feet-joke right here)
But I just can't let eBay go. Third time's the charm, right? Right. Bid, won and received these:
Cute, wedges, unique, not made for two left feet...they were perfect! I've always prescribed to the theory that Beauty Hurts...the cuter the shoe, the more it's going to cause you pain and sorrow. Not these babies.
Next time I buy an outfit I'm going to make sure I already have shoes to go with it. This whole process took almost 6 weeks. Six weeks before I could wear the cute outfit because of the lack of proper, stylish footwear. And no, I did not get my money back for the defective shoes. I wanted to have them to blog about....duh!