As part of our celebration in launching our new modest dress line, Diviine ModesTee is participating in a blog giveaway. We are giving this skirt: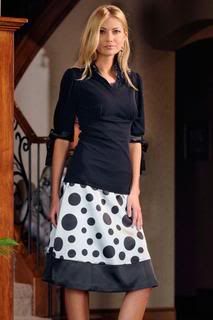 Skirt ONLY. This skirt is brand new to our collection. It is a high-sheen satin polkadot print in black and grey with a wide black band around the hem. It has a fitted waist and comes in women's sizes XS-XL.
To enter the giveaway simply post a comment to this article. Giveaway is sponsored by Bloggy Giveaways and Online Sweepstakes. Please include your email address in your comment. It's as simple as that! AND...to earn even more entries you can do the following (one additional entry per)
1. Subscribe to this blog.
2. Blog about this adorable skirt and link back to this post.
3. Email two people about this skirt and bcc me at sandy@diviinemodestee.com.
4. Fill out the form to the right and down a ways to Host a Fashion Show this Fall and submit.

You have from now until November 1 (that's only 5 days!) to post a comment and be entered in this giveaway. Don't worry if your comment doesn't appear right away...they have to go through moderation first. The winner will be randomly chosen and announced on this blog November 2nd.
The details: US residents only. Diviine ModesTee Fashion Consultants not qualified.
More great dresses can be found at our website: Diviine Modestee.