A Red, Red Rose
by Robert Burns

O my luve's like a red, red rose.
That's newly sprung in June;
O my luve's like a melodie
That's sweetly play'd in tune.


Valentine's Day is almost upon us and for those who don't boycott the day (like my sister, Alena who works at a flower shop so can you blame her??) it is the season of love and romance. According to some sources Valentine's Day is the number one day out of the entire year to receive a marriage proposal. And what should the stylish and modest modern woman wear on the day she may become engaged? Why a gorgeous red dress of course!
With this dress and a pair of killer pumps what man could resist proposing to his lady love?
As for my sister, the boycotter of all things Valentine-y? She and other Valentine's haters can wear this lovely dress below until the mourning period is over at 12 Midnight February 14 and she'll still look gorgeous and classy.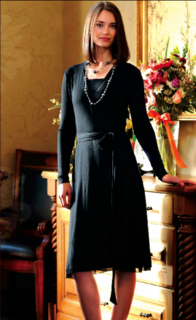 What am I wearing? Well, since Valentine's Day is on a Saturday and my husband is tied up continually with meetings, etc this time of year I will be wearing sweats, I'm sure. Whatever you wear, enjoy yourself and hoard that chocolate!