I posted a while back about one of our new dresses, the
Taylor
which I LOVE, but I haven't yet announced that we also have 4 other new dresses in for Fall:
Kelsey
,
MaKennzie
(in two colors),
Taylor
and
Brecken
(also in two colors).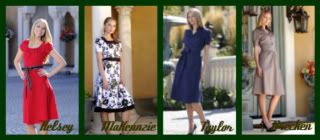 These dresses are
20% off
in our store and also online at
Diviine Modestee
. These are great dresses, I really can't say enough about them. As the resident sizing model for Large, I am so impressed with all these designs. All four of them make me look a size smaller and who doesn't want that? Not ashamed to say that I do! Each one hits below the knee and has a modest neckline.
Use coupon code: diviinedealholiday to get the discount.