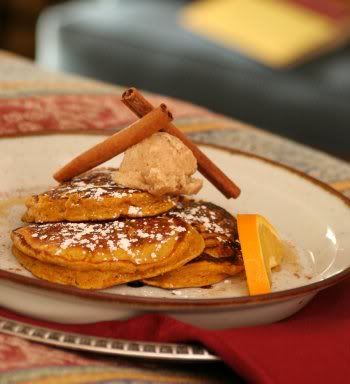 One of the things I love most about Fall is Pumpkins. I love Pumpkin pie, pumpkin smoothies from Jamba Juice...basically anything pumpkin. Here's a recipe that I thought I'd share for fellow pumpkin lovers...not that we are turning this into a recipe blog, cuz we're not, we are still Diviine Modestee selling modern modest fashion.
Bon Appetit!
Pumpkin Pancakes
2 eggs
1-1/4 Cups buttermilk
4 Tablespoons butter, melted
3 Tablespoons canned pumpkin
1/4 Cup granulated sugar
1/4 Teaspoon salt
1-1/4 Cups all-purpose flour
1/2 Teaspoon baking powder
1/2 Teaspoon baking soda
1/4 Teaspoon cinnamon
1/4 Teaspoon allspice
.
Preheat a skillet or griddle over medium heat. Spray a light even layer of oil cooking spray.
With an electric mixer combine eggs, buttermilk, butter, pumpkin, sugar, and salt in a large bowl.
Combine remaining ingredients in a small bowl. Add dry ingredients to wet ingredients and blend with mixer until smooth.
Pour the batter in 1/4 cup portions into the hot pan.
When the batter stops bubbling and edges begin to harden, flip the pancakes. They should be dark brown. This will take from 1 to 2 minutes.
Flip the pancakes and cook about the same amount of time, until dark brown.
Servings: 4
I think these would be yummy with Buttermilk syrup and I have a recipe for that if anyone wants it.
If you have a favorite pumpkin recipe that you'd like to share, please add it in your comments!